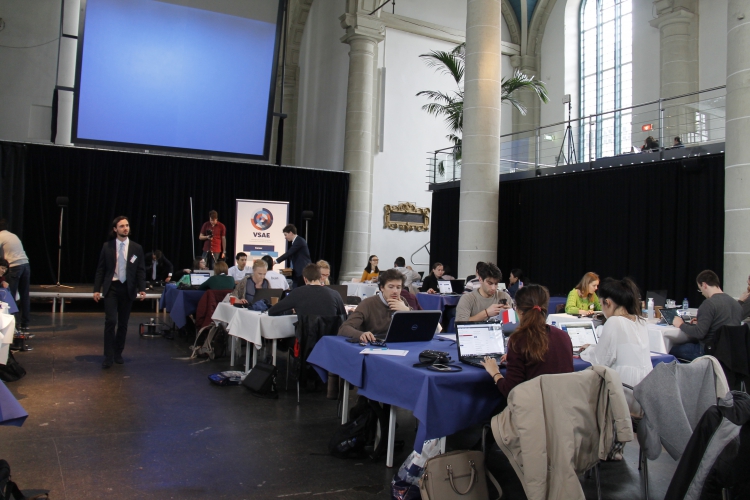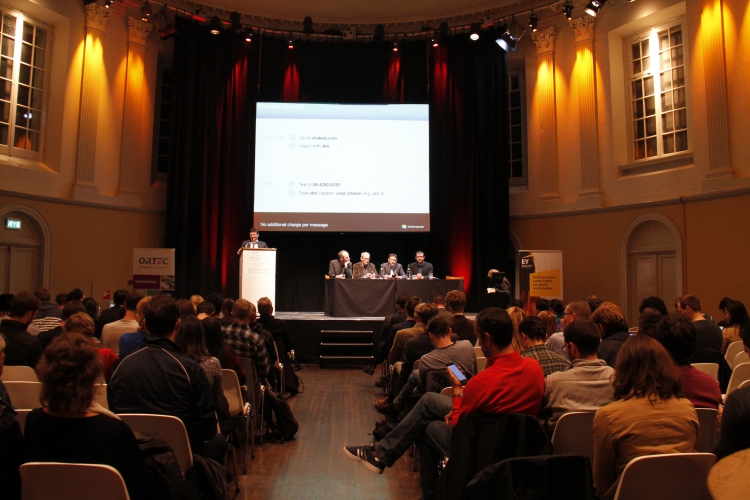 From April 6 – 8 the Econometric Game 2016 took place. In these days, thirty universities from all over the world worked on a case on socioeconomic inequity in healthcare with data provided by the SHARE-project. The competition itself was won by Harvard University. The Warsaw School of Economics came second, and Erasmus University Rotterdam ended in the third spot. Each year the Econometric Game advances to a higher level, aiming to be the World Championship in Econometrics. More and more universities want to compete, showing the popularity of the event. One unique thing in this edition was the crowdfunding of the Sao Paulo University, who reached out to the public in order to fund participation in the event, something which makes us, as organizers, proud of hosting this event.
The days took place in Amsterdam, with events taking place in De Kleine Komedie, Zuiderkerk and Felix Meritis. Furthermore, two public sessions were organized in this week for the general crowd. The first was a debate in Spui25 on privacy issues concerning big data, while the second event covered the robotization of the labour market. Next to this an event was organized for UvA students in Econometrics. This event included a case with municipal data of Amsterdam, and students were challenged to come up with ideas to prevent overcrowding in the city center of Amsterdam.
The complete event was sponsored by our main partners, EY and Ortec. Furthermore, funding has been provided by University of Amsterdam – Economics and Business. Without our partners the event would not be possible in it's current form, and we are very grateful for all the help we have received, both financially as in the organizational part.
Media
We are proud that the Dutch public broadcaster NOS wrote an article on the Econometric Game. Furthermore, local broadcaster AT5 made a video on the Amsterdam Data Challenge. Further websites that have paid attention to the Econometric Game 2016 are the David Giles blog, Yahoo Finance, Consultancy.co.uk, Erasmus University, Warsaw School of Economics, University of Amsterdam and Ratio. Probably more websites have elaborated on this edition, but this gives an idea of the broad coverage of this unique event.
An aftermovie was created, shot during the several days.
The case of this edition was on socioeconomic inequity in healthcare among elderly Europeans. Using data provided by the SHARE-project, participants were challenged to come up with innovative ways of estimating the healthcare gap, investigating to what extent socioeconomic differences influence the amount of healthcare used. The case itself was split in two parts. The first part was done by all participants, while the second part was done by the ten finalist universities. These finalists were Lund University, Warsaw School of Economics, McGill University, University of Copenhagen, ENSAE, Aarhus University, Erasmus Universiteit Rotterdam, Harvard University, University of Rome Tor Vergata and University of Antwerp. We are very grateful to the casemakers and jury for all the time invested and the cooperation in the whole process of the Econometric Game.
Casemakers
Teresa Bago d'Uva is an Associate Professor at the Erasmus School of Economics. Before that, she obtained her PhD in Economics at the University of York. Her areas of interest are applied microeconometrics and health economics, and her research has focused mainly on measurement of biases in self-reported health and inequalities in health and health care.
Pilar García-Gómez is an Associate Professor at the Erasmus School of Economics, and Research Fellow of the Tinbergen Institute. Her areas of research are health economics, labour economics and impact evaluation. Her research has focused on understanding the relationship between health and labor market outcomes and the role that labor market policies and social security incentives play in shaping this relationship, and the measurement of inequality in health, health care and long-term care.
Jury
Maarten Lindeboom is Professor of Economics and Chair of the Department of Economics at VU University Amsterdam. He studied econometrics at VU University of Amsterdam and graduated in 1986. He received his Ph.D. at Leiden University in 1992. Maarten Lindeboom held visiting positions in the UK and the US and is currently editor of the Journal of Health Economics. His research interests are Health and Labor economics, in particular issues related to Health and Work, The Measurement of Health and The Determinants of Later Life Mortality.
Erik Plug is Professor of Economics at Amsterdam School of Economics of the University of Amsterdam. Previously, he was Director of Graduate Studies at Tinbergen Institute and held positions at Erasmus University Rotterdam and Wageningen University. He has a Master in Econometrics and PhD in Economics from the University of Amsterdam. His research interests relate to family, education and labor economics. His research is always empirically orientated. Recent examples include family-driven estimation strategies (relying on adoptees, twins and IVF treatments) applied to topics in intergenerational mobility, the economics of sexual minorities, family labor supply models and family well-being. Erik Plug's work has been published in the American Economic Review, Industrial and Labor Relations Review, Journal of Economic Literature, Journal of Human Resources, Journal of Labor Economics, Journal of Political Economy and the Quarterly Journal of Economics.
Winning solutions
As science is and should be open to allow people to learn from each others work, the papers of the top 3 universities can be found here. The winner of this edition was Harvard University, Warsaw School of Economics came in second and Erasmus University Rotterdam ended third.
Harvard University
Warsaw School of Economics
Erasmus University Rotterdam
My name is Joppe, I am currently 23 years old and working on completing my MSc at the UvA. Next to studying and my part-time work at the student desk I like to hang out with friends, watch series (Homeland, House Of Cards, Suits, Game of Thrones,…) and enjoy some beer during that. After my study, I plan on finding a job, first of all by trying to be selected for the Air Traffic Control Programme at Schiphol. If that does not work out, I have no clue yet where I will end up, who knows!
Hi, my name is Mandy van Oosterhout. Since 1 February I am on the board of VSAE, the study association of the studies Econometrics, Operational Research and Actuarial Sciences at the University of Amsterdam. During this edition of the Econometric Game, I will help the committee to make these days successful. Next year I will be the coordinator, so I am involved in organizing two Econometric Games! Good luck you all with the game and have fun enjoying Amsterdam!
Mandy van Oosterhout
Coordinater
Mark Verhagen
Vice-Chairman
Dear participants, my name is Mark Verhagen, born and raised in Amsterdam. The last ten months I have helped organising this years' games with great pleasure and warmly welcome you to our beautiful city. As a student, I have studied Art History and Econometrics at the University of Amsterdam and will start my master's degree in Econometrics from September onwards. In case you will not make it to the finals, do not despair; I will be one of the guides for the non-finalists and am looking forward to exploring the city with you. Good luck with this year's game!
My name is Jowita and currently, I am studying Econometrics and Economics at the University of Amsterdam. Within the committee, my role is to keep in contact with the external relations of the Econometric Game, like amongst others the sponsors. Furthermore, I take care of the website. Besides studying and working, I love travelling around the world, and to discover new cultures and meet new people. Therefore, I am really looking forward to welcoming you in Amsterdam this April and I hope you will have a wonderful stay!
Jowita Osinga
Acquisition and Website
Hi, I'm Mark. Currently, I am doing my master in Econometrics at the University of Amsterdam. In the committee, I am responsible for finding the casemaker for the Econometric Game. My hobbies are football and climbing (yes indeed, in a flat country). So if you want to talk about football while cracking the case, hit me up! But jokes about our national team are not allowed ;). Hope to see you in April and good luck preparing!
Hello! My name is Ea, I'm currently in the second year of my bachelor Econometrics and Operations Research. Last year I enjoyed being part of the winter sports committee, but this year I was looking for something a little more serious. Within the committee I am responsible for PR & Media and I'm proud of what we have accomplished so far! I hope you have a wonderful time in the beautiful city of Amsterdam and I would like to wish you the best of luck with the game!
Benjamin van Arum
Universities
Hi, my name is Benjamin. I'm currently doing the master Financial Econometrics. Besides my study and work, I like to have some drinks with my friends. Furthermore, I like going to the gym to burn some calories. My task in the Econometric Game committee 2016 is being the contact person for the universities. I really enjoy the preparation for the Econometric Game and I'm proud to be able to organize such a great event like this. I hope that you guys will have a great time in Amsterdam and I wish you all the best for the Game. Enjoy!
Hi, my name is Noah and I am a third-year bachelor econometrics student at the University of Amsterdam. I'm thrilled that I can be a part of this year's Econometric Game committee. My role is to arrange all the different locations you will be going during the game. I'm looking forward to put together another great edition this year and hope you will have as much fun as I had while organizing it. I wish you good luck and see you all in Amsterdam in 2016.
Noah van Grinsven
Facilities